Sixth Form
Welcome from the Head of Sixth Form
Welcome to the Sixth Form at Newlands where we are proud to support our students in becoming confident and responsible young adults.
Students in the Sixth Form study a full programme of three A-Levels or BTEC equivalents. All courses can be found in the Curriculum Booklet online. A student may study four A-Levels if they choose Further Maths A-Level as an option. Students who have yet to secure a pass in GCSE Maths and/or GCSE English also have the opportunity to re-sit these examinations in Year 12 and Year 13.
Our highly-qualified and passionate teachers are all specialists in their field who enjoy inspiring those students who have chosen to study their subjects to A-Level. Our offer of 24 A-Level subjects and 4 BTEC options provides each individual with an appropriate programme of learning and our students leave Newlands equipped with the highest grades and a solid foundation upon which to build when starting university, an apprenticeship or employment.
Year 12 and 13 Parents' Evenings take place in November and December with termly reports issued throughout the year to track progress. Students wear a black suit (from either Goyals or School Days Direct) as part of the Sixth Form uniform.
We are committed to supporting all students to make the transition to Sixth Form and offer a range of advice, guidance and help to ensure they develop the independent study skills they need to thrive, not only in the Sixth Form but also in their lives beyond Newlands.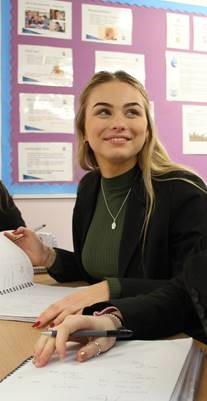 "At Newlands, all girls can expect great teaching from well-qualified specialists. Facilities include an indoor swimming pool, sports hall, gym, drama studio, design and technology suite and a dedicated music block. With an exciting, broad and balanced curriculum, there is always something new and interesting to learn."
Sixth Form Team
Mrs G. Walton - Assistant Headteacher/Head of Sixth Form/Head of Year 13
Mrs J. Turner - Head of Year 12
Mrs L. Allaway - Assistant Headteacher - Sixth Form
Mrs K. Bretherton - Sixth Form Learning Mentor and Administrator
Form Tutors
12A - Ms R. Walsh
12B - Ms K. Paupiah
12C - Ms Hannah-Ghose and Mrs T. Kang
12D - Ms A. Alleyne
12E - Mr D. Lowden
12F - Miss N. Alam
12G - Ms L. Benoit and Miss M. Scott
13A - Dr D. Wills
13B - Mrs T. Wills
13C - Mrs J. Henshaw and Ms L. Exworth
13D - Mr E. Karley
13E - Mrs N. Green and Mrs K. Torrance
13F - Mr C. Beach and Miss M. Claxton
13G - Mrs C. Harris, Mrs I. Deo and Ms M. Morrison
"Students are well prepared for the next stage of their education. They receive informative careers advice. This means that they make appropriate choices at the end of Year 13. Almost all students go to university after their 16 to 19 study programme, and a significant number secure places at Russell Group universities."
"Teachers have very high aspirations for pupils. Teachers use their secure subject knowledge to ensure that pupils thrive on interesting activities."

OFSTED 2018