KS5
A-Level Mathematics - (2 year course)
Pupils will follow the new curriculum (first teaching September 2017) which is a fully linear, 2 year course.
We will be following the Edexcel-Pearson Specification and pupils will be assessed at the end of Year 13 over three papers. https://qualifications.pearson.com.
All assessments will need to be taken in a single exam series. Retaking the complete qualification is allowed, but resits of individual papers is not.
A-Level Mathematics: Assessment schedule: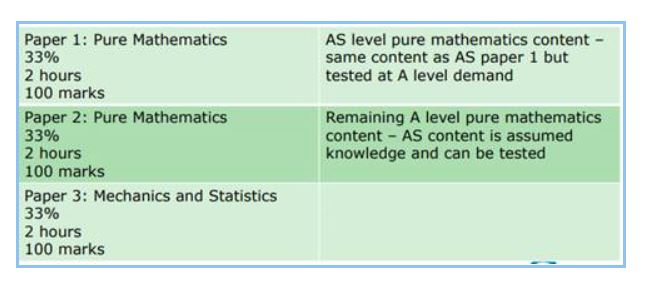 A-Level Mathematics: Paper Content: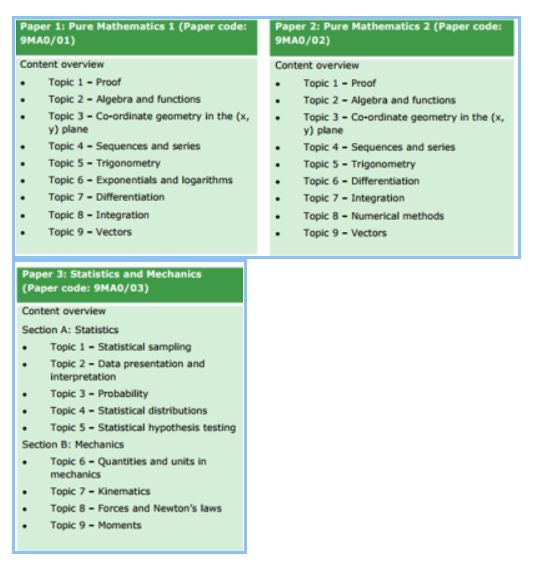 A-Level Mathematics: Additional support
We subscribe to a variety of resources to support the learning of our pupils:
An online edition of the textbook.
www.pearsonactivelearn.com which provides access to materials directly linked to the textbook.
Integral maths https://integralmaths.org/2017/- which provides access to lessons, additional questions and solutions, revision material and much, much more.
www.mymaths.co.uk – a great resource providing explanations and practice questions.
Other sites we recommend are:
https://www.examsolutions.net/ - An amazing set of video tutorials, available free for all students. Missed a lesson? Need clarification on a topic? This is the website for you.
www.physicsandmathstutor.com/ - excellent resource for online forums, revision materials and links to short video tutorials by topic.
A-Level Mathematics: Independent Study
The delivery of the new course heavily depends on independent study. Most practise and consolidation work will be done out of the classroom.
We recommend and extra 10 hours of independent study per week to comprise: additional notes (from one of the resources above), additional practice from the textbook and other resources, preplanning future topics and revising for the regular in-house assessments*.
*In-house assessments will take place after school on Tuesdays (3:05 p.m. - 4:05 p.m.).