Higher Education and Careers
"Students are well-prepared for the next stage of their education. They receive informative careers advice. This means they make appropriate choices at the end of Year 13. Almost all students go to university, and a significant number secure places at Russell Group universities."

OFSTED 2018
One of the most important things we do in Sixth Form is to prepare our students for their next steps into the world beyond Newlands. Whether that is to university and higher education, the route chosen by the vast majority of our girls, or into the workplace, we are here to support them.
Destinations for the academic year 2021-2022
Students go on to study a huge range of different subjects and pursue a wide variety of career paths. Our aim in the Sixth Form is to ensure that students have the tools and information they need to make the right decisions about which path they wish to follow.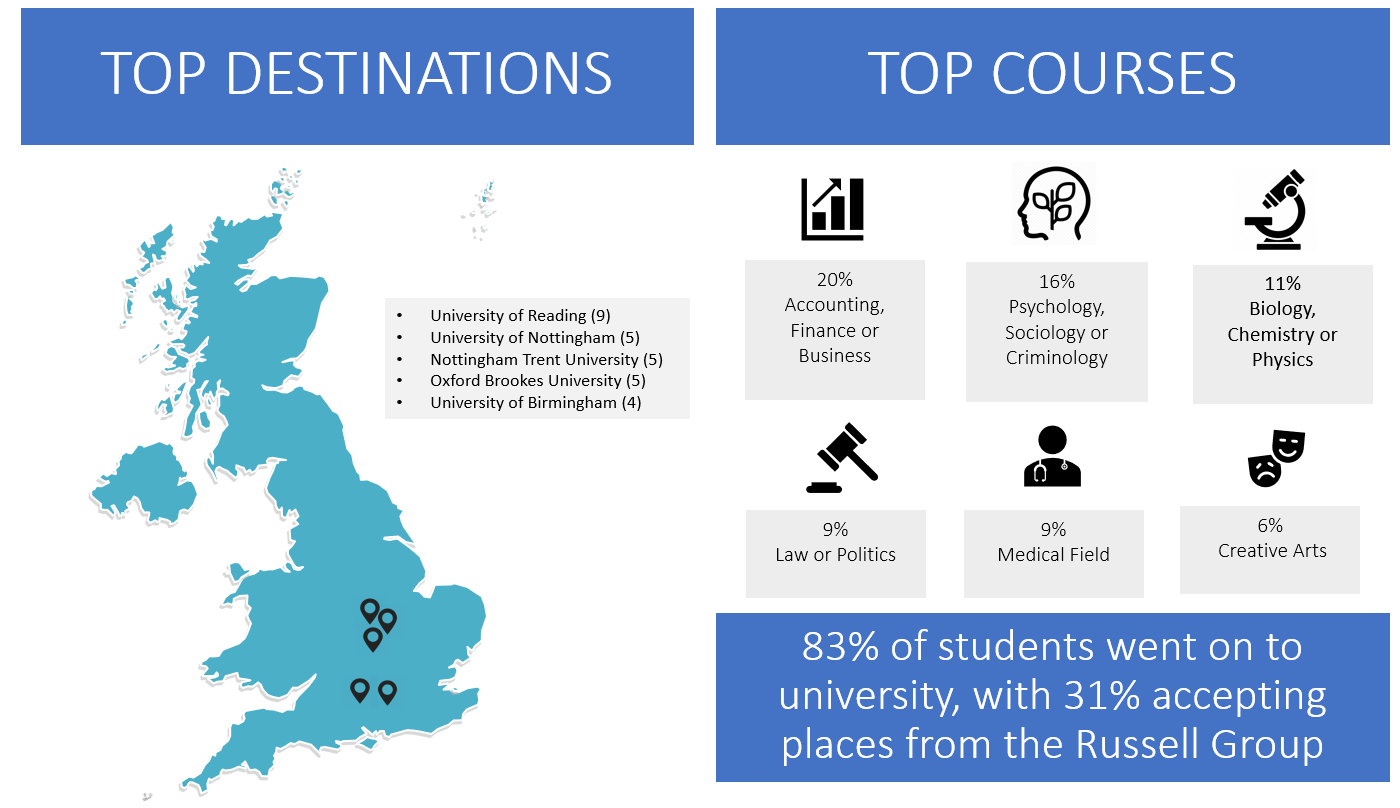 Sixth Form Higher Education Support Programme
Newlands' staff have many years' experience in supporting university entry, including to Oxbridge and the Russell Group institutions. We understand what Admissions Tutors are looking for and are able to provide advice on all stages of the application process, including:
Expert guidance for UCAS applications
Personalised support for UCAS personal statements
University prospectus library
Information and support for university open days.
Higher Education Conferences & Evenings
Visits and talks from representatives from specific universities
One-to-One advice and support
Extensive Oxbridge programme with specific links to Brasenose College, Oxford
Help with applications to universities overseas
Information and advice about gap years
Bespoke mentoring programme
Mock interviews
"Having a mock interview was so helpful: it boosted my confidence and gave me a sense of what to expect, as well as reassuring me. Importantly, it highlighted the areas I needed to improve so that I felt prepared by the time I went for my university interview."

Year 13 student
Sixth Form Careers Support Programme
Careers advice takes on a greater significance in the Sixth Form and our programme of support builds on the high quality and impartial careers information, advice and guidance provided in the lower years of the school. We aim to help students make informed choices and inspire them to pursue their aspirations. In addition to the support provided by all Sixth Form staff, our full-time Careers Advisor is an invaluable resource for students to access. Our careers programme includes:
Careers Fairs
Access to an up-to-date Careers library
Access to one-to-one support and advice from our Careers Advisor
Lunchtime career 'drop in' sessions
Work Experience
Networking events
Mock job interviews
Guidance on writing CVs
"I am going to University of Nottingham to study Politics and International relations, alongside competing for Great Britain in Synchronised Skating. Newlands helped me achieve this through providing an excellent structure to our learning and making sure that there was not just academic support on hand but also emotional support through facilities such as the SFC (Student Focus Centre)." Lily Hall