Enrichment Opportunities
Trips – Easter 2020
Sixth Form students currently have opportunities to go on either the Ski or Vietnam trips during the Easter holidays in 2020. Past trips have included Morocco, Iceland, New York, Italy and Japan. Watch this space for future trips….
Mandarin
This Year 12 enrichment subject is open to all students in our Sixth Form. However, an enthusiasm for language learning and a willingness to participate actively in lessons are essential. This course takes place at Desborough College on a Wednesday afternoon between 2.00 p.m. and 4.00 p.m. and is co-ordinated by Mr J. O'Connell, Assistant Headteacher.
Mandarin Chinese is the most widely spoken language in the world. The tonal nature of the language makes it challenging to learn. However, unlike European languages, there are no verb tenses or conjugations and no plurals. Business people who can speak even a little Mandarin find it much easier to develop working relationships.
Students will learn the basics of the Chinese language in order to understand how it is structured, in addition to its cultural nuances. They will be able to communicate at a basic level with a native Mandarin speaker on topics such as greetings, countries, nationalities, occupations, family, clothes, advertising, transport and sport. Students will also have the opportunity to learn up to 80 characters from the Chinese writing system.
All candidates will be prepared for the HSK (Chinese Proficiency Test) in July each year. This is an internationally recognised qualification accredited by the Confucius Institute, also known as "Han ban".
"I chose Mandarin as an extra-curricular activity as I have a passion for languages and knew that learning the most spoken language in the world would give me many opportunities. With over 1.1 billion speakers of Mandarin Chinese, I knew that it would be of interest to me to pick up some useful words and phrases as I wish to travel in years to come. So far, the course is interesting as it is not only a language lesson, but a cultural one too; as it pushes us to embrace other cultures and therefore become more knowledgeable of the world around us. Overall, it is a very interesting and worthwhile course that could open more doors as I progress into further education." Year 12 student
EPQ - Extended Project Qualification
The Extended Project qualification is available to all students in Year 12 and forms an additional qualification to the subjects being studied. The EPQ allows each student to embark on a largely self-directed and self-motivated project. Students must choose a topic, plan, research and develop their idea and decide on the finished product. The EPQ is examined through AQA and is co-ordinated by Mrs L. Allaway, Assistant Headteacher.
We encourage creativity and curiosity. A project topic may be directly related to a student's main study programme, but should look beyond the specification. A finished product may take the form of a:
Research based written report
Production* (eg; charity event, fashion show or sports event etc.)
An artefact* (eg; piece of art, a computer game or realised design)
A written report must accompany these options.
"I decided to take an EPQ in order to pursue my interest in an area that I hadn't chosen at A-Level. I only take science related A-levels and so was eager to do research into a topic that was completely different. My topic is Neuroaesthetics - looking at the psychology behind art. I hope to do some paintings to complement my written essay and I am really enjoying the research into an area I am so interested in! Your mentor helps you so much along the way, making it a really enjoyable and inspiring process!" Year 12 student
The Gold Duke of Edinburgh Award
The Gold Duke of Edinburgh Award is a national award and is co-ordinated by Mrs S. Vaughan in the Sixth Form at Newlands. Students undertake an expedition, service, physical activity, a skill and a residential trip to achieve the award. Many students complete The Silver Duke of Edinburgh Award lower down the school, which leads onto the Gold Award, whilst others are direct entrants into the programme. For more information on what the award entails, please see www.dukeofedinburgh.com
National Citizen Service - NCS
NCS is a four-phase programme specifically designed to provide students with an exciting range of new experiences. The scheme comprises a residential trip in the summer holiday where students work together on a collaborative project, which develops presentation, team work and evaluative skills. The school link is Mrs G. Walton, Assistant Headteacher, and students can apply to take part from March in Year 12, when there will be an assembly by NCS. For information please see www.ncsyes.co.uk
Helping students to prepare for their next steps
Students are encouraged to support their own learning using a range of external sources. These include:
MOOCs
Ted Talks
Radio 4 (BBC Sounds)
Work Experience/Work Shadowing
Opendays.com
Taster Days
Volunteering
Debating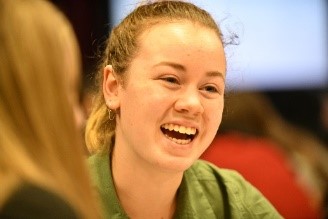 Summer Schools
Many universities have summer schools in between Year 12 and Year 13. These are publicised directly to the students via email during the course of the year. Please see below for a few ideas.
"Varied extra-curricular activities mean that students play a rich role in school life. Many students participate in the Duke of Edinburgh's Award and in the National Citizenship Service. Sixth Form Prefects act as role models, and several students mentor younger pupils. Consequently, Sixth Form students develop their leadership skills and build their self confidence so that they are well prepared for life after Sixth Form."

OFSTED 2018