Drama
Drama at Newlands is an enriching subject providing rewarding activities that inspire, inform, stimulate, challenge and entertain. The study of drama helps to develop Commitment, Compassion and the capacity and Courage to formulate, communicate ideas and feelings; enhancing the ability to interpret skills.
Our vision as a department for Drama is that we foster in every pupil, whatever their background or starting point, a passion for the subject that inspires in them a desire to take their studies further. The Drama Department attempts to create a sense of 'infectious joy' through practical teaching techniques, a hands-on approach to learning and carefully crafted curriculum which builds on skills and knowledge. We aim to create talented performers, who can use their bodies and voices to create meaning and expression, engage and move an audience and master the complexities of building character.
Drama is not only the subject in which students can express themselves; it is also invaluable for teaching transferable attributes such as team work, confidence in public speaking and adapting voice and body language to suit a variety of situations. Sitting alongside that, Drama has a bespoke knowledge base; Practitioners, playwrights, theatre history and performance styles, all vital aspects of the schemata of drama.
Curriculum Intent:
KS3
To take an active practical approach to developing drama skills.
Cement a foundation of knowledge and understanding
Work collaboratively to explore a range of themes and styles.
Use drama as a platform to build confidence in public speaking and presentation skills.
Enrich students school experience through extra-curricular activities and trips, including drama clubs, whole school shows and West End/Local theatre trips.
KS4
Acquire secure vocal and physical acting skills.
Retain knowledge about drama technology and practitioners.
Learn to collaborate with others
Think analytically and evaluate effectively.
Gain confidence to pursue their own ideas.
Reflect and refine their efforts.
Analyse and evaluate their own work and that of their peers, including the work of live theatre makers.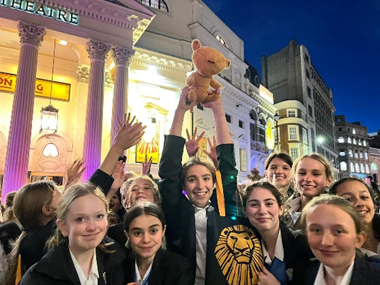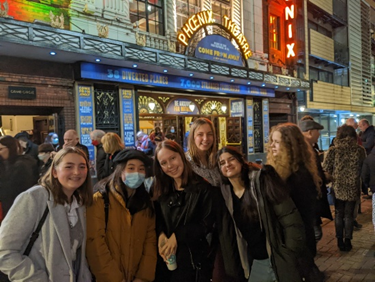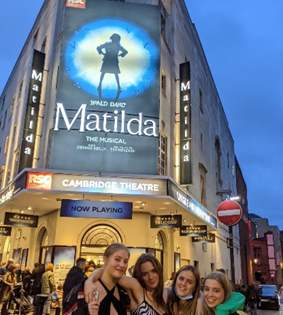 Theatre Studies
KS5 - Extending and Mastering
Successfully perform to an audience complete with production values.
Collaborative approach to crafting original piece of drama, demonstrating knowledge and understanding of key dramatic technique practically and written.
Produce sophisticated and thought-provoking piece of drama.
Demonstrates assured use of appropriate specialist vocabulary. Use clear, coherent and accurate use of terminology.
Successfully realise intentions and where appropriate make connections between visual and written live theatre.
"This experience has unlocked many doors. It has allowed me to be confident and connect with my fellow pupils and teachers. I thrive on the departmental opportunities that allow me to exercise theatrical skill and creative. Allowing me to build connections with younger years and gain experience in leadership roles."
Isabella Sternheim (KS5 Pupil)