Swimming Success for Eva Narewska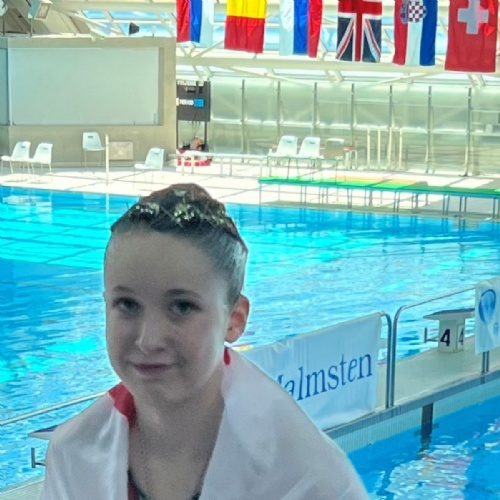 In June, Eva had the most fantastic experience, travelling and competing for Great Britain at her first International Competition as part of the England Youth Age-Group Artistic Swimming Squad – The 21st Primorje Synchro Cup – which is held in Rijeka in Croatia. This includes competitors from the national and local Croatia squads as well as teams from clubs across the world (Dubai, USA, Switzerland etc.!).
Eva had been selected to swim for both the GB team routines at the competition. On the first day of the three-day competition, their 'Combo' team, which is a team of 10 swimmers, swam a 'Spider' themed routine, with a variety of solo/duet aspects and 'highlights' (lifts and throws) and performed amazingly against 15 other teams and were delighted to win GOLD! On the final day of the competition, she swam with the 'Free' team (8 swimmers) – the team had only just finished choreographing the routine on the final day of their last training camp just before the competition, so they were delighted to come away with the SILVER medal against very tough competition!
Eva not only enjoyed winning the medals but had a wonderful experience training and competing with her squad, in a different country in an amazingly beautiful setting (right by the sea!) and met a lot of new friends – there is a tradition of swapping kit and gifts at the end of the competition, so she came away with a lot of goodies, mainly from the US team!
Just two weeks later, and with her Year 10 exams in-between!, Eva also competed with her club team (Reading SSC) at the National Combo Cup competition, at the London Aquatics Centre, and won another medal with her team, this time the BRONZE!
She is now back to training hard with the GB squad, who are polishing their routines for a tougher International competition – the European Youth Artistic Swimming Championships in France at the end of July!