Gym Squad win National and Regional Titles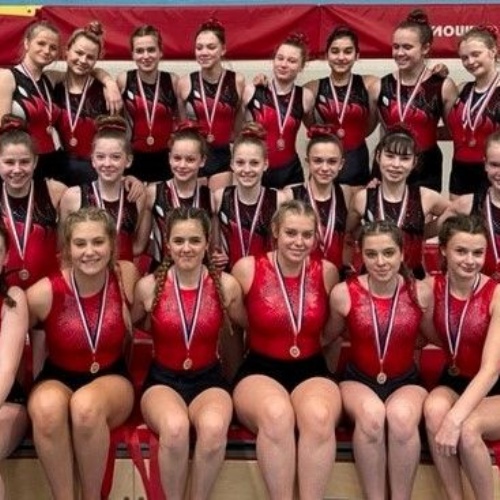 Last weekend was incredibly exciting for Gym Squad. More than 25 girls competed in multiple disciplines across 3 days to claim national and regional titles.
On Friday 11Th March, our U13 team took part in the Milano National Final in Stoke-on-Trent, which they qualified for in December. Not only did they achieve some of their best scores yet, but they went on to help team 'South' along with Beaconsfield High School, to claim the bronze medal for the third-best region in the country! They also placed 7th out of 22 as a school, which was an incredible achievement. Massive well done to: Jess, Georgie, Olivia & Izzy (Year 8s).
Saturday 12th March brought more good news, where our U16 team took to the floor. After some of the highest scores in the whole competition on all disciplines, we were successful in claiming 3rd place and receiving bronze medals out of 21 of the best school teams in the country (a Newlands' first). Furthermore, this excellent result helped team South (combined score with St. Marys', Gerrards Cross) to 1st place and gold medals overall. Well done to Chloe (Year 9), Emmy, Molly & Lucy (Year 10s).
The excitement did not end here, as nearly the whole squad travelled to Southampton on Sunday 13th March (despite a nice early start) for the Southern Region acrobatic gymnastics and tumbling competition. In the U14 category, our Year 8 six performed beautifully to claim gold, qualifying them for the National Finals! They also performed some great pair routines with Izzy & Liv achieving silver and Amelia & Georgie achieving bronze. Another well done to those in the six and others who performed great pairs: Sophie, Leyla (Year 7s), Anna, Minnie and Jess (Year 8s).
Chloe and Dani (Year 9s) also performed an amazing pair, but shined in the tumbling, placing 3rd and 1st, with top 2 qualifying to Nationals. The U19s were also strongly represented in tumbling by Jess and Lucy, who placed 1st & 2nd, sending them off to Nationals together.
In a spectacular final year together, our Year 11s six, Issy, Lottie, Brooke, Eloise, Phoebe and Niamh, performed incredibly for an U19 gold medal, also now heading to the Nationals, whilst the Year 10 six of, Emmy, Clemmie, Jess, Lottie, Lucy and Talullah claimed bronze.
U19 pair competition, Clemmie and Emmy performed strongly, and Lucy and Sophie claimed bronze in this category.
Well done to everyone in Gym Squad, we should all be so proud, especially due to all the last minute practices and stand-ins. An enormous thank you to Mrs White, who put up with our squabbling, moaning and joking - you truly are the best, and thank you to Miss Young for helping us travel to the competition. Good luck at the National Finals, and I can't wait to see what's to come…
Lucy - Year 1F