U14 & U19 Floor and Vault Competition - 6th February 2022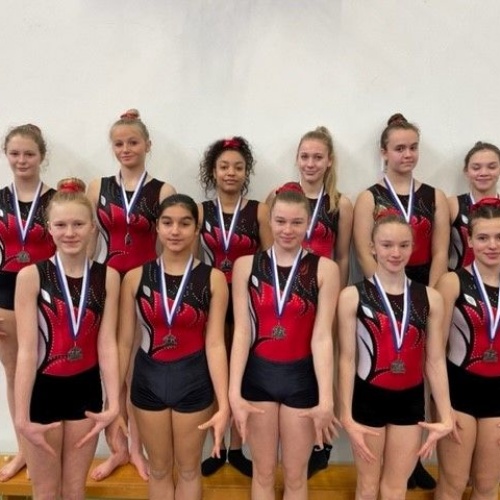 U14 & U19 Floor and Vault Competition - 6th February 2022
On Sunday 6th February 2022, 11 members of our gym squad competed in the Under 14 and Under 19 Southern Region Floor and Vault Competition at St Mary's School in Gerrard's Cross.
Each gymnast competed in an individual floor routine and a vault, and once again we were the only comprehensive school in attendance. There were eight schools competing in each age group, and the standard was incredibly high. All gymnasts performed exceptionally well and they were rewarded with silver medals. Both teams narrowly missed out on gold (and a place in the National Finals) by less than half a point! The competition could not have been closer.
Our gymnasts have been working tirelessly to complete their routines and perfect their vaults, with hugely reduced time in the gym due to Covid-19 restrictions. Once mixing was allowed again, they all came in at 7.55 a.m. nearly every morning and again at lunchtime for extra practice. Their commitment to school gymnastics is second to none, and we are so proud of, and impressed by, their dedication and work ethic.
A particular mention must go to Leyla and Izzy in the Under 14 team, who stepped in with less than a week to go, learned a whole routine, worked on their vault and performed so beautifully at the competition.